After we were settled and acclimated to the surroundings we started at 23:00 together with Sector One, L!DL and lucky strike at pool A. No competitors we could not handle, except maybe Sector One who sometimes play surprisingly well. However, everything went smoothly, with a total of 48 rounds of won and no less than 3 rounds against, we were first in our pool.
First match in the bracket was a default win so we could automatically advance to the second round. The team we had to face, Team Avalanche, consisted of old SDG players. First map we lost so for us it was all or nothing. Fortunately, our boys took the lead and won the next two maps so we could move on to round 3 against Maestro.
Maestro is a relatively new team with a lot of young talent. They played with fire and passion and surprised by such power, we lost the first map. After that we could not reestablish ourselves and we lost also the second map, them kicking us back in the lower brackets.
After this ugly loss against Maestro we had to re-motivate ourselves, whereas the upper bracket was a Best of 3, the lower bracket was a killer Best of 1. There was NO room for failures. First match in the lower bracket was against Mouse Control. No problems and a big win, against Dragons also without any troubles a Victory.
Here we were, this time at FoM 17.0, again the Lower Bracket! Not our favorite roadmap to victory! Of course - déjà vu - we finally meet Brussels Guardians again. Would we do it again? Would we again send the major contender home like we did at FoM 16? It was a thrilling match and we finished it as winners! We freaking did it again! Two matches to go and we could be back in the finals!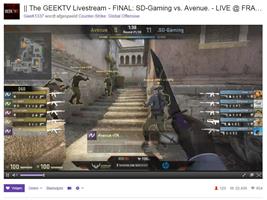 Although we send Team Avalanche back to the lower bracket they fought themselves up to the semifinals of the lower bracket. That's where we met again, this time we face each other in a Best of 1. Failure is NOT an option. The match was thrilling! With a 15-14 disadvantage, and a match point for Team Avalanche, SDG player Dono faced one to one for the tie. After a breathtaking battle he managed to secure that round and the first overtime started! With another three overtimes the game was, with a score of 24-22, a well-deserved victory for our boys! We had reached the final of the Lower bracket and a guaranteed third place at FoM 17.0
The lower bracket final was, after the Best of one, a more relaxed Best of 3, yet no room for mistakes and failure, THIS MUST BE IT! SDG vs. Maestro. REVENGE!! The first map was our Victory, that gave us enormous motivation and we almost could taste the finals! Our dream remained just a dream because we lost the second map. It's all or nothing once again! Do or Die! With a huge effort our boys kicked Maestro from the map and themselves directly into the grand finals!!
Avenue is already waiting for a match with us.
Strong and confident we start the grand finale of Frag-o-Matic 17.0. Who will take it all, who will go home disillusioned. This grand final contained everything the audience could ever wish for. Two highly motivated teams, teams that would go to the extreme for the first place! The match went all the way to the 30th round, making it an overtime. Unfortunately, Avenue was controlling this fierce match for themselves, and conquered the first place.
All together we can look back at a successful edition. I, as the manager of these great players, am very proud of the level of professionalism, fair play and sportsmanship that they have shown. 
Fre, Kay, Nik, Dono and Jef, thanks for sharing this experience with me.
Peter Gordijn, Director Benelux